Dr. Fox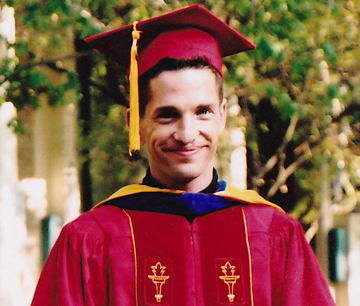 The intellect can be a tricky thing. It can get in the way of feeling things, and getting into action. My years pursuing a doctoral degree and my first years teaching were pretty lonely as I sought to find ways to put theory into practice. Now, having been a professor for close to a decade, I feel like I'm finally able to strike an energizing balance between my thinking and making. My students continually inspire me, and the classroom is a place where I can share my own successes and failures as an independent media maker with students as a shared space of teaching and learning.
There were a number of critical questions that shaped the approaches and content of THE SKIN I'M IN. As the background clip to this page attests, I had been doing a lot of thinking about the psychoanalytic notion of mirroring, and asking where the complex and nuanced cultural mirrorings of LGBT identities were. One of my arguments for the importance of autobiographical media is the need for marginalized voices and perspectives to be seen and heard. In short, if mainstream media won't tell our stories, we need to mirror ourselves.
This is a step forwards from 20th century notions of identity politics, where certain individuals were eschewed from racial, feminist, or gay liberation movements for not staying "on message." Certainly in the early years of a struggle, there is a need to have a clear, understandable campaign. Just look at how the repeated critique, first of the WTO protests and now of the Occupy Movement, has been "What is the message?" It's hard to make posters and march for abstract ideas like "plurality and heterogeneity." But perhaps we've come to a point in identity politics at least, where the individual and the specific don't undermine a collective message, but rather attest to the infinite possibilities of identity. With each example of straight male body dysmorphia or male-to-female-trans lesbian desire, we begin to uncouple the variables of identity that culture has so long restricted to a meager and insufficient number of binaries: male/female, gay/straight, etc. I've in essence described queer theory, which challenges each of us to "queer" or question all cultural norms and givens.

Have you ever been challenged to rethink something you'd previously taken for granted? What was the belief? What sparked the questioning? How did the experience change you?
Strategic essentialism is a compelling term to describe the phenomenon of disenfranchised groups choosing to oversimplify their cultural identities and demands as a strategy for political progress and visibility. We can see this in everything from "Asian-American FIlm Festivals" that lump together myriad cultures under one heading, to the marriage equality issue being chosen as the banner issue to advance LGBT rights. Have you had to balance personal interests with party lines in the name of strategic social progress? Share your experiences or perspectives on this strategy.
Michel Foucault's notions of biopower and panopticism allude to the insidious ways in which we often police, censor, and regulate ourselves out of implicit fear of cultural ostracism or repercussion.  Can you see patterns of bio-power at play in your own life? In how you dress, what you do or don't post online, or in other public performances of "self"? Share your experiences with us.
Share your thoughts and comments in the "queering culture" blog feed below, and I'll keep posting mine as well.
Broderick Fox Interviewed on Queer 2 the T

Thanks to Tee S. Hawkins and Kenya Gales over at Queer 2 the T, PR Radio's top-ranking show, for a great interview about The Skin I'm In. Tee's great questions led to an in-depth conversation about body, identity, spirituality, and intergenerational perspectives in the digital-age LGBTQ  community. We also talk in depth about the amazing work of featured artists and collaborators Rande Cook and Zulu, and I share new information about my next film project Zen & the Art of Dying and its queer central character, the pioneering Zenith Virago.
Notes from a Screening Party in Yerevan, Armenia
On Saturday, November 17, the  AJZ Space in Yerevan, Armenia hosted a screening party of THE SKIN I'M IN  coordinated by The Screenery, PINK Armenia, Queering Yerevan, and talented filmmaker and scholar Anahid Yahijan (a former student of mine).
Approximately 25 attendees representing a range of hybrid nationalities, sexualities, and identities were in attendance and contributed to what sounds like a spirited and nuanced discussion of the film afterward. Anahid related many positive comments about the universality of various aspects of the story and an overall appreciation of its honesty. Two lines of critique and their ensuing debate at the event are especially interesting to me and worth sharing here.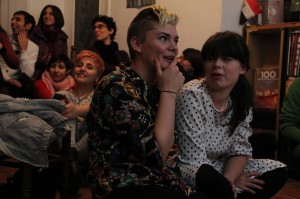 Some of those in attendance questioned the cultural appropriation present in the film (my world travels, collaborating with a Kwakwaka'wakw artist to design a tattoo, and the return to indigenous notions of tattooing as ritual).  In a globalizing world where Westerners like myself (coming from distinct legacies of privilege) are critical of the American status quo and seek out other historical and transcultural traditions as touchstones for a way of living, is this a sign of progress or simply of cultural hegemony and postmodern pastiche? My own answer would be that it all lies in intent, level of engagement, and the spirit of the interaction, and that we can get paralyzed in postcolonial theory and political correctness if we are not careful.   This is an important conversation that I try to open up through the film and want to hear your thoughts on below.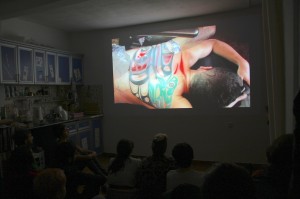 A cohort of queer women at the screening were apparently put off by the multiple personas and frequent performative screen doublings I use to not only tell my own story but also to evoke past moments and encounters for which I have no footage.  One woman referred to these strategies as grave betrayals of what many queer theorists have tried to fight: the notion that queerness is all about ego, a narcissistic mirroring of the self, and chalked the film up to an ultimate act of aesthetic narcissism that could have no larger social import due to its particularity to one individual's story. Concerns about "unhealthy narcissism" area of course one that keeps any right-minded autobiographical filmmaker up some nights.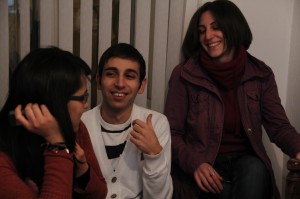 But it is worth unpacking the common levying of "narcissism" as a pejorative. In the psychoanalytic sense of the word, a healthy narcissism and mirroring of self in one's parents is deemed vital for balanced social development. And yet mainstream culture has long denied queer identities such mirroring, as argued in the background clip on the Dr. Fox page of this site) My own hope is that in a digital age of self-disclosure on the streams of social media, that the film is in fact a return to the performative traditions of queer media (i.e. Marlon Riggs) and the autobiographical impulses of third-wave feminism (i.e. Vanalyne Green), where the crafting of such a piece returns a degree of self-reflection and retrospection into the act of digital autobiography, and that sites like this one and imfromdriftwood.com offer the opportunity for the sharing of personal stories to provide much-needed mirroring to underrepresented components of culture and opportunities for ongoing dialogue and debate.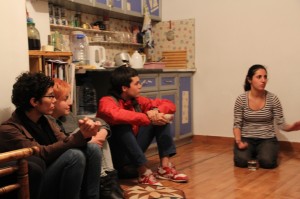 Wherever people come in on my particular film, let's at least be sure to exercise these digital potentials for dialogue! Check out the great photos of the event, host a screening party of your own, and join the conversation below.
Matthew Vines on the Failures of Language
My friend Volker Beier recently shared this YouTube video with me of college student Matthew Vines, delivering the result of two-years of independent research and scholarship on the Bible and homosexuality at College Hill United Methodist Church in Wichita, Kansas earlier this year.
Matthew's critical approach is fueled in no small part by his own longstanding conflict between his own innate identity and contemporary religious interpretations of scripture. Aside from the fact that it is heartening to watch a young adult speak articulately and comprehensively on any subject, I'm especially taken by his points (beginning at 45:30) about the cultural/historical specificity of language, or more appropriately, language's frequent failure to appropriately capture the nuanced matrices of identity.
These failures of language, or more appropriately, the frequent failure of humans to acknowledge the fact that language is mere sign, continues to tie up our cultural and political debates with moral stands against homosexuality based solely on precarious translations of scripture across language, culture, and time. The consequences of such semiotics are very real, however, demonstrated by the human lives impacted by and all-too-often, lost in translation.
Even in our attempt to include all categories of identity that deserve protection or inclusion, we combat the restrictiveness of language and labels with more language and labels: L, G, B, T, Q, I…
What are your thoughts on the possibilities and limitations of language as a means of recognizing specific experience while also leaving space for plurality and difference? Can we get beyond language, or somehow invite a greater sense of reflexivity and play in its engagement?
Gay Marriage Passes First Phase in New Zealand
New Zealand passed the first stage of a national gay marriage law yesterday. Grateful that THE SKIN I'M IN could be a part of this year's Out Takes New Zealand Film Festival.
Eagle Scouts Return Medals to BSA in Protest of Discriminatory Policies
FYI, I'm a recovering Eagle Scout as well. It's precisely this sort of "normalized" bigotry and exclusion experienced by so many of us at young ages that creates the sense of alienation from self and others which THE SKIN I'M IN seeks to expose and challenge.
Watch Boy Scouts Uphold Policy to Exclude Gay Youth on PBS. See more from PBS NewsHour.
Screening of 'Skin I'm In' more than skin-deep

Screening of 'Skin I'm In' more than skin-deep
Art and the power of transformation in Professor Broderick Fox's newest documentary
By Vivien Reece
Identity is not a fixed thing, according to Fox. "There is that myth of the one harmonious individual," Fox said, alluding to the idea that people should all look and behave similarly. This false idea of a single ideal identity caused him pain and confusion growing up and even through his documentary project. "A lot of heartache came from a search for identity. But identity is changing; there is no fixed destination," he said. Just like art, Fox said, "Identity is a form of play and experimentation. We are always performing and changing, and there is a joy in that too." Read full article